Forum Numerica - The digital world seminar series
About Forum Numerica
Forum Numerica is the seminar series of the Academy of Excellence "Networks, Information and Digital society", dedicated to the digital sciences and their impact on the society and humans.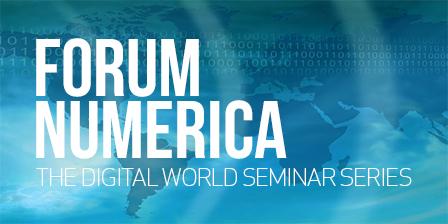 UPCOMING...
Neuromorphic engineering and robots
by Chiara Bartolozzi, Italian Institute of Technology
Organization
Coordinated by Pr. Jean Martinet, the Forum Numerica committee is composed by researchers, whose expertise cover the three research fields targeted by our seminars: Networking, Digital Science and Digital Society. A list of identified topics per pillar and their representatives follows.
THREE THEMATIC PILLARS
Forum Numerica seminars cover 3 thematic pillars:
Networking

Topics

Internet Measurement & Crowdsourcing
Software Defined Networks; Virtualization; Cloud & Data Centers
IoT; sensors

Network protocols & radio

Antennas, low-power devices, wearable devices, network infrastructure
Theoretical foundations

Network science
Graph theory, algorithms
Stochastic optimization
Signal processing

Digital Sciences

Topics

Massive Data Processing
Compressive Sensing
Big Data
Data Mining
Cryptography
Formal Methods
Bio-informatics
Languages & Models
Web

Digital Society

Topics

Digitization
Social Networks
New Economy
Innovative IoT-based business models
Forum Numerica attendance is valorized by your Doctoral school
We welcome your presence as PhD students! Come and meet peers and experts in your research field and beyond.
ED STIC: participation in 4 Forum Numerica seminars earns you 1 ECTS.
ED DESPEG: 1h30 / seminar
ED SHAL: 2h / seminar
Ask for your certificate of attendance at the end of each seminar!